Edmonton is a fantastic home for newcomers. Whether you're from a different town in Alberta, a different province, or a whole different country, Edmonton is a welcoming city and, according to Daily Hive, one of the most affordable cities to call home across North America.
For lifelong Edmontonians, there is an interesting city loyalty. The seemingly constant debate as to whether north or south of the North Saskatchewan River is a better part of the city (with both sides willing to play fully into this friendly rivalry). But one city section that's seen more loyalty than most has no rival: the west-end.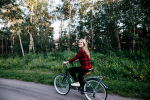 What makes the west-end great?
Folks who grew up on the west-side of Edmonton really love the west-end. Edmonton's largest attraction, West Edmonton Mall, is only one piece of what west-enders love.
Whether it's the familiar neighbourhoods, nearby entertainment like movie theatres and the River Cree Casino and Resort, tons of great shopping (including Costco), or a love of the nearby nature-reserves and trails, west Edmonton has a pull on new Edmontonians unlike any other part of the city – and once west-enders find their west-Edmonton homes, their loyalty to this part of Alberta's capital city quickly becomes unwavering.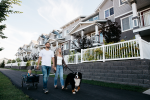 Practical location, drawing folks from all over
"It's often a preferred location in the city because their family or friends live west and they're closer to work," says Ilana Staniscia, Area Sales Manager for Edgemont and Parkland with Brookfield Residential. She goes on to explain that these are very common reasons for people to live in any preferred area of the city, but the west-end seems to have growing draw for folks from all over.
"We get a lot of buyers from the north side, downtown. St. Albert, and many from the south-west too," says Ilana. "A lot of the feedback we receive is it's easy to get to and from work and after a long day they appreciate not having to navigate a lot while in the community. They can hop off the highway and be home very quickly!"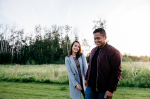 Laid-back, easy going vibes
An easy commute doesn't seem to be Edgemont's only draw. When Brookfield Residential started work on Edgemont, preserving much of the natural landscape stayed a top priority – as was making sure residents could access features like the Wedgewood Ravine.
"Edgemont has a very laid back and easy living vibe to the community, so it attracts people that prioritize ease and simplicity into their lives," says Ilana. "The local amenities are natural ones. The ravine and greenspaces attract people who love the outdoors and spending time in nature."
So, why do west-enders stay west? A better question might be, "Why do people move and stay in the west-end?" A simple answer: it's outstanding!
If you're commuting daily to different parts of the city, the roadways make trips simple. If you're looking to spend more time outdoors, it's a simple walk to beautiful parts of our river valley. If you're looking for a quiet getaway while staying in the city, Edgemont could be a simple solution.