For most folks growing up in the 80s and 90s, playground equipment was almost always made of metal and plastic. While these materials were durable enough to withstand activity from countless children, their environmental impact will eventually be felt down the road.
When we began work on our community, Edgemont, sustainability was top of mind. So much surrounding Edgemont is seemingly untouched natural habitat, so finding a material for the playground that was sustainable and complemented the natural playground surrounding the community was especially important.
Enter Robinia: a dense hardwood that's native to the eastern United States. This incredibly durable wood is rot resistant, which satisfies both the need for more sustainable practices when adding amenities to a community, while also providing strong and safe playground features that kids can enjoy for decades to come.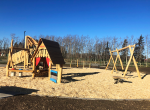 A Quick History of Robinia
In the United States, Robinia is also known as black locust. Though the US is seen as its native land, its exact native range isn't accurately known and is found across 48 states. It's even considered an invasive species in some parts of the world where it grows, including across South America, Asia, and in Europe.
The tree first found its way to Europe in the 1600s. In 1602, the King of France's gardener actually planted the first Robinia tree on the continent. In fact, that tree planted over 400 years ago still stands in Paris to this day! Robinia remains prevalent in both the US and throughout Eastern Europe. Robinia's European prominence is primarily centred around Germany, Romania, and the Czech Republic.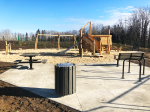 A Partner in Sustainable Play
For the playground in Edgemont, Brookfield Residential sourced the features from Kompan, a Berlin-based playground and fitness equipment designer and manufacturer. Kompan uses Robinia in its line of playground materials because of its sturdy and sound grain that makes it incredibly strong and the amount of sustainable forestry associated with this tree. Robinia trees grown are bred, raised, and harvested in a carefully controlled manner and specifically to be used for this equipment.
Kompan is also no stranger to providing equipment to international markets. Each month, Kompan is responsible for designing, manufacturing, and installing playground equipment in more than 90 different countries on five different continents.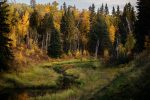 Sustainability in Seemingly Unlikely Places
When most people talk about sustainability, they're typically focused on energy consuming appliances or on waste and recycling. Though choosing sustainable materials for a playground may not seem like a strong green solution, choosing these types of materials for our communities can compound into a larger impact down the line.
The amount of energy consumed and materials wasted for other types of playground material manufactured does take its toll on the planet. Switching to Robinia not only reduces this material and energy waste, it also brings to question what other community features could be switched to sustainable materials.
Edgemont's new playground stands as an example of what can be achieved with a combination of creative thinking, strong partnerships, and an eye for making our communities even better. We're looking forward to discovering what other community pieces we can take more sustainable approaches with, and how that will help lead into a better world overall.