So you're thinking about buying a home. Perhaps you've just finished school, started a career, growing your family, checking off major life milestones right and left, moved cities or even countries, how are you budgeting for your immediate and future financial goals? Purchasing a new home is one of the best ways to grow your equity, but where do you start? A step towards the right direction is a plan for creating a healthy spending budget to save towards your down payment.
Already have a down payment saved? Determine your mortgage buying power within minutes through Quick Qualify with access to over 125 lenders to get a pre-approved mortgage and secure your mortgage rates. Knowing your home budget prior to visiting our builders' show homes will make your experience a breeze.
The key to being financially healthy is to make sure you are spending and saving your income wisely. Down payment in-hand or not, continue reading for some tips to planning for a healthy household budget.
Start Saving – Now
Saving the amount of money you'll need to buy a house takes time (it's a marathon, not a sprint), so it's never too early to start. Even if homeownership is a ways down the road, if it's something you know you want, don't wait to start saving.
When you think about the cost of buying a home, one of the most daunting amounts you'll see is the down payment. It's important to think beyond that though. You'll want to build a solid foundation for your finances and save a minimum of an additional three to six months' worth of expenses as an emergency fund. You don't want to be "house-poor" right off the bat. Should an issue arise (not just with the house, but car repairs, medical emergencies, or job loss), you want to be prepared.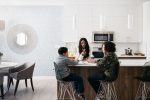 A Healthy Balance of Spending Habits
The biggest obstacle to saving money is changing your habits. It's hard to make sacrifices so share your goals with friends and family to help keep you accountable. Put visible reminders of your goal wherever you're tempted to spend money – put a picture of your dream home on your computer or desk so next time you're tempted to click "add to cart," you may rethink that purchase.
Create a budget
It sounds easy right? Maybe not. You have to start somewhere so start by learning what your finances look like as of today. Get together all of your bank and credit card statements to figure out where your money is going. You may be surprised to see how much you're spending and where once you sit down and look. Using a budgeting tool like Mint can help automate the process by pulling your information directly from your bank and categorizing your spending into a pie graph. You can easily see the breakdown of your monthly income, fixed expenses (rent, car payment, insurance), discretionary expenses (dinners out, shopping, entertainment), and look for areas where you can cut back. What you give up buying today means you can buy more of what you want later.
Stretch your budget even further
You can move to a smaller apartment or a more affordable area. Buy generic brands at the grocery store. Reduce or cut out bad habits like impulse buying and getting takeout. If it's time for your annual performance review, it may be the moment to ask for a raise. Pick up a side hustle – use your photography skills to freelance, make some furry friends by pet-sitting, and instead of being the one ordering food, you can be the one delivering it. You can even sell some of your stuff. That air-fryer that you "had to have" but never gets used anymore? You can make a few bucks selling it – you won't even miss it.
Create a timeline
Ideally, when do you want to purchase a home – two years, five years, more? Look at what homes are selling for in the area you'd like to buy to help estimate your purchase price and calculate the 5-20% you'll need for a down payment. Divide that amount by the number of months between today and the date you want to be able to buy. This will tell you how much you need to save each month. Figure out if your timeline makes sense and what adjustments you need to make to meet that savings goal. Naturally, the shorter your timeframe is, the higher your monthly savings goal will be.
Automate your savings
Once you have your amount calculated, automate your savings. Allocate that amount to go directly into a savings account so you're not tempted to spend it. When it comes to saving, the adage of "out of sight, out of mind" definitely rings true. If you don't see the money in your spending account to begin with, you won't have the temptation to use it.
Add to your account whenever possible
Grandma sent you a check for your birthday? Add it to your savings. Your company gave you an annual bonus? Add it to your savings. That nice tax refund you're getting? Add it to your savings. Any time you can contribute extra money to your goal, you fast-forward the process of saving and can potentially chop a month or more off your homebuying timeframe.
Follow the 50-30-20 rule
Just as you would refer to dieting as "healthy eating" Manisha Thakor, MBA, CFA, refers to budgeting as "healthy spending." The key to being financially healthy is to make sure you are spending and saving your income wisely.
Manisha created a simple spending ration to help stay on track. She recommends using the 50-30-20 rule.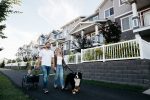 Educate Yourself
When it comes to buying a home, one of the most important things you can do is arm yourself with knowledge. Know all the terms and numbers and understand what they mean and how they work.
Know your credit score
Your credit score has a huge impact on your future purchasing power. If you don't have the greatest score now, you have time to improve it so lenders are willing to give you that mortgage loan. Take an in-depth look at your credit situation. Many people have errors on their credit report that could be costly – a higher interest rate on your credit cards or home mortgage or even your car insurance. If you want to buy a home, get fiscally fit. Pay down any outstanding balances and pay your bills on time.
Know what you qualify for
Work with a mortgage lender to help you or determine your mortgage buying power within minutes through Quick Qualify. You can discuss your current financial situation and figure out what you would qualify for at this moment and what you'll need to do to qualify for your dream home in the future. One of the first things lenders look for when they consider you as a mortgage candidate is your debt-to-income ratio (DTI). The more debt you have, the less favorable you are as a candidate. While it may sound counterintuitive to pay down debt in order to save, once those debts are paid off you'll have hundreds (if not thousands) of dollars freed up to help you save faster.
Do you plan to have more than 20% saved towards the down payment of your new home? You'll also need to be aware of Canada's Mortgage Stress Test which helps to ensure you are financially set should interest rates rise. Use Canada's Stress Test Calculator and consult with a mortgage lender can help you understand your DTI as of today and what ratio you need to have in the future.
Learn if you qualify for Canada's First-Time Homebuyers Program
Are you a first-time homebuyer? You may qualify for Canada's First-Time Home Buyer Incentive Program. This program offers shared-equity mortgages making it easier for you to buy a home and lower your monthly mortgage payments. As a shared equity mortgage, this means that the government shares in the upside and downside of the property value. It allows you to borrow 5 or 10% of the purchase price of a home. You pay back the same percentage of the value of your home when you sell it or within a 25-year window.
Through the Government of Canada's Home Buyers Plan, you may also qualify to withdraw up to $35,000 from your RRSP's. If you are also helping to purchase a home for a dependent with disabilities, or have been recently legally separated or divorced, you may also qualify for this incentive.
Know all the homebuying costs
Brace yourself: The down payment isn't the only expense you're going to need to save for before buying a home. Fortunately, the other costs aren't as hefty and shouldn't take much longer to save for. You'll need to factor in closing costs – expenses like loan origination fees, credit reports, underwriting fees, the appraisal, and escrow and title fees to name a few. You'll also have to pay property taxes and homeowner's insurance and if your new home is in an Residents Association, you'll be responsible for upfront dues and document fees.
Buying a home can be a long process, but you're going to learn a lot and will go into homeownership well-prepared. Ideally, you'll have mastered the art of budgeting, have a solid understanding of your financial situation, and will be ready to take on the joys and challenges.