Winter makes up the majority of our year here in Alberta. But we Albertans are a resilient bunch – a little cold air never scared us away from some outdoor fun. After all, just because it's snowing, that doesn't mean you can't get outside.
Lucky for you, Brookfield Residential thought ahead about what folks living in our communities could do to get outside when it's cold. No matter the level of physical activity you're looking for, who you want to do these activities with, or when you want to get outside for fresh air and fun, there's something in Edgemont.
Here are the top five active things you can do today (or any day for that matter) in Edgemont.
1. Ice skating
It almost feels wrong to live in Canada and not ice skate. Our country's most popular sports are hockey and curling (both involving ice), playing pickup shinny is like a rite of passage for countless Canadian kids, and with the right kind of maintenance, you can easily ice skate for far more months than you can ride a skateboard.
Though there isn't an outdoor ice rink directly in Edgemont, there are outdoor rinks that are only a short drive away. There's the Stillwater Playground and Outdoor rink that's an under twenty-minute commute, and the Ambleside Rink just to the south. These rinks are run by their respective community and homeowner's associations, so make sure to check the rules before partaking in any skating. There is also the Ice Palace at good ol' West Edmonton Mall, though that rink is indoors.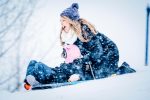 2. Tobogganing
Got a hill? Got something smooth and flat to sit on? You can go tobogganing!
Tobogganing is one of the easiest winter outdoor activities to get into. After all, who doesn't love sliding down a snow-covered hill? It's important to choose a hill that isn't nearby roads and storm drain ponds. But when you find that perfect hill, you can slide down and climb up for seemingly hours and never realize how much time you're spending outside.
For the safest and most fun tobogganing experience, check out Parkwest Toboggan Bowl just east of Edgemont. This park features some of the best hills you can find in the winter, with all toboggan traffic moving away from any potential hazards. For countless Edmontonians every winter, this is a destination worth trekking across the city.
3. Walking or running on community trails
Almost every Brookfield Residential community has a system of paved and open trails for walking, running, or any other outdoor activity you can think will be fun. Whether it's lacing up your runners to get some cardio, packing down some powder for snowskating, or taking a leisurely stroll to enjoy the day, these are the trails design for casual and everyday use.
While much of Edgemont's appeal is the close proximity to Wedgewood Creek Ravine, not everyone feels safe venturing into that much nature. The community trails make for a great alternative to bring outside in an open and well-maintained environment that's as safe as it is enjoyable.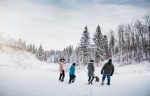 4. Hiking through a ravine
A nice thing about living in Edmonton is that almost our entire city was laid out with some sort of access to the North Saskatchewan River in mind; you're never that far from some part of the river valley. Whether it's the Mill Creek Ravine, Heritage Valley, or one of the countless parks throughout the city, you're almost always a short walk or drive from kind of natural space that makes you think you're hours away from any urban centre.
Near Edgemont is only steps from the Wedgewood Creek Ravine and its multitude of multi-use trails. You can spend hours taking in nature, listening to the birds in the trees, and seeing what wildlife you can encounter all while improving both your physical and mental health.
5. Build a snow fort
You can enjoy this playground favourite in the green spaces and designated parks all across Edgemont. This is a constructive and enjoyable activity to do with the family, but you don't necessarily have to have kids to enjoy building snow forts. Get some friends together to carve out a space for some chairs and enjoy a private get-together with coffee and hot coco. If you see another group of adults making a fort for themselves, challenge them to see who make a bigger and sturdier hangout space! After all, why should the kids have all the snow fort fun?
What do you think of our list? Have any favourite outdoor winter activities in your neighbourhood? Or is there something on our list you're excited to try? Follow Brookfield Residential on Facebook and Instagram and let us know about your outdoor winter activities!